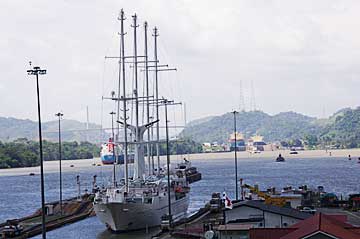 msy (masted-sail-yachts) Wind Star entering the Miraflores Locks
Windstar Cruises is a cruise ship line notable for its modern computer-controlled sailing ships.
The line was established as Windstar Sail Cruises in 1984, and its first ship, the msy Wind Star, launched in 1986, followed by the Wind Song and Wind Spirit. Two additional ships were ordered from the French "Ateliers et chantiers du Havre" shipyard: the Wind Surf and the Wind Saga. These two ships were to be larger than the originals, holding over twice the amount of passengers and reaching a length of 660 ft compared to the smaller vessels of 440 ft in length.
In the attached images you can see the msy (masted-sail-yachts) Wind Star in the Panama Canal southbound on the 1st of December 2009.

The msy Wind Star Cruise Ship in the Miraflores Locks
The msy (masted-sail-yachts) Wind Star
Passenger Capacity: 148 passengers
Year Built: Wind Star/1986
Crew: 88 international staff.
Sails: 6 triangular, self-furling, computer operated sails with 21,500 square feet of Dacron surface area
Masts: 4 at 204 feet or 62 meters
Beam: 52.1 feet or 15.8 meters
Length: 360 feet or 110 meters at water line, 440 feet or 134 meters, including bowsprit
Tonnage: 5,350 gross registered (grt) tons
Draft: 14 feet or 4.1 mete
Speed: 8.5 to 10 knots with engines only, up to 14 knots wind and engine assisted