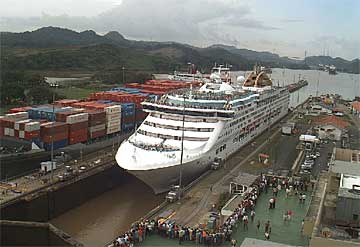 The Oceana Cruise Ship entering The Miraflores Locks
First time cruisers will love the atmosphere of this ship. As will those looking for a spontaneous and sociable style of cruise holiday. Laugh. Relax. Enjoy. Oceana's wide range of entertainment and facilities appeal to all ages. You can play tennis in her sports court – housed in her funnel. Unwind in her whirlpool spas. Try your luck in the casino. And dance the night away in Le Club.
The Oceana Cruise Ship is seen here doing a Panama Canal transit entering the Miraflores Locks system, heading for Panama City and then the Pacific Ocean.
The Oceana covers many Destinations like: South America, the Amazon, the Caribbean, the Panama Canal and many more.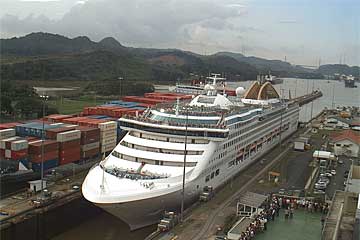 The Oceana Cruise Ship in the Panama Canal
Lively and glamorous, Oceana is a cruise liner that's full of personality. Her impressive atrium, adorned with palm trees, creates that holiday feeling as soon as you step on board. With deck bars, pools and many balcony Staterooms, she is the perfect cruise ship for sunny climates. For more information and current cruise destinations of the Oceana please see the P&O Cruises website.
The Oceana Cruise Ship
Crew: 875
Launched: 2000
Decks: 15
Tonnage: 77,000
Passengers: 2,016
Registry: Great Britain