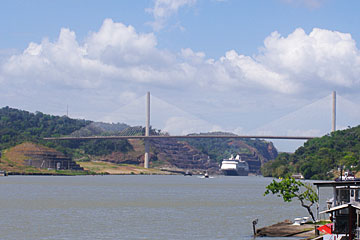 The Maasdam Cruise Ship in the Panama Canal under the new Centenial Bridge
The MS Maasdam is a Holland America cruise ship named for a dam located on the Maas River in the Netherlands. The Maasdam features a teak promenade deck, two-tiered dining room, and atrium with glass sculpture. The ship also features an expansive art collection.

The vessel serves destinations in Atlantic Canada, New England, Europe, and the Caribbean.
In the attached images you can see the Maasdam Cruise Ship in the Panama Canal
on her South Bound Transit on January 13th 2010.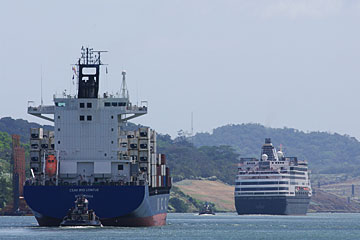 The Maasdam Cruise Ship entering the Culebra Cut in the Panama Canal
ms Maasdam
Ship Facts:
Ship's Registry: The Netherlands
Passenger capacity: 1,258
Crew members: 580
Gross Tonnage: 55,575 grt.
Length: 719 feet
Beam: 101 feet
Maximum speed: 22 knots
Dedicated: December 1993, by actress June Allyson
At 720-feet, the ms Maasdam is designed to carry fewer guests while providing more space for maximum comfort. Many staterooms feature commanding ocean views, and each suite has a private verandah.