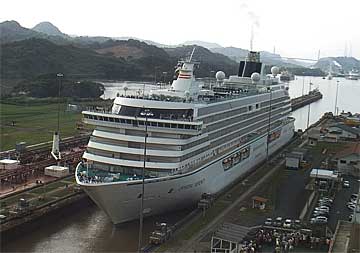 The Crystal Serenity Cruise Ship entering The Miraflores Locks, Dec. 10, 2008
The Crystal Serenity was built in 2003, is 820 feet long and it weighs 68,000 tons. It is said it is a floating homage to luxury travel. Serenity is one of the industry's largest luxury ships it is capable of hosting 1,080 passengers in its 548 staterooms which are considerably larger than the competitors' offerings. The Crystal Serenity has a friendly, and professional crew and staterooms are real amazing.
The Crystal Serenity Cruise Ship is seen here doing a Panama Canal transit entering the Miraflores Locks system, heading for Panama City and then the Pacific Ocean.
The Crystal Serenity covers many Destinations like: Alaska, Asia, The Americas, Mediterranean, Europe, Canada, Panama Canal, World Cruises and much more.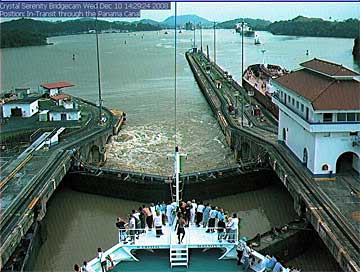 The Crystal Serenity Cruise Ship in the Pedro Miguel Locks, Panama Canal
Ship size - Large Ship length - 820 Decks - 9 Tonnage - 68,000 Total cabins - 550 Private balcony cabins - 466 Passenger capacity - 1,080 Total crew - 655 Passenger to Crew Ratio - 1.5 to 1 Year entered service - 2003 Year refurbished - N/A Registry - Bahamas Sister Ships - Symphony Dress Code - Casual w/ 3 formal nights . For more information and current cruise destinations of the Crystal Serenity please see the CrystalCruises website.
The Crystal Serenity Cruise Ship
Placed in Service: 2003
Status: in service
Tonnage: 68,000 gross tons
Length: 820 feet
Beam: 106 feet
Speed: 21 knots
Decks: 14
Complement: 1,080 passengers, 655 crew
Registry: Bahamas